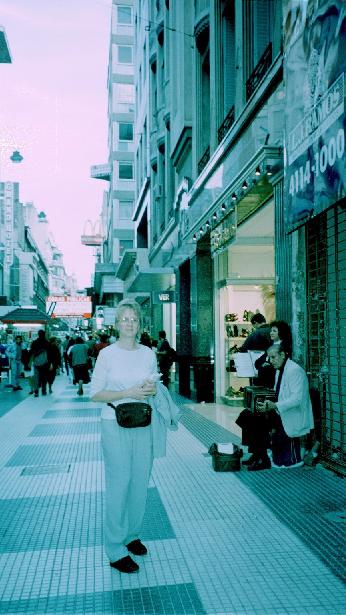 >>>>>>>>>>>>>>>>>>>>>>>>>>
Day 1: Argentina : 11 May
>>>>>>>>>>>>>>>>>>>>>>>>>>
(Landed early ~1800 on 10 May. Waited 2 hours in Airport for Customs clearance. We had paid an "Expediter" in Chile who got us thru in a breeze. She was an official functionary. Didn't know how to make a "facilitating payment" (aka bribe) in Argentina. Hotel reservations screwed up for air crew. Late to rooms. Had to pack out next morning. Most took it well.)
<<< Pedestrian shopping street

Impressions:
-On Developed Country scale: 75 of 100.
-Big city, good infrastructure.
-Richest city in both America's in 1920's.
-Beautiful French/Italian/European buildings~influence.
-Yes, it does deserve the title of "Paris of South America"

Moved to Circular Militar (or Military Circle) kind of like the Army-Navy Club in downtown DC.

-Palace bought in the 1930's from a rich family. Worn elegance still visible in the public rooms. Multiple hues of Italian marble used throughout.
-But guest rooms are Hungarian countryside style...old, worn, no TV, tiny twin beds in most rooms. But all have a bidet in the bathrooms! And only $60 per night.
-Great tour of the Palace side for five of us who befriended a retired Colonel in the O'Club bar. Showed us all the sights to include some risque points:
-He insisted the guys go behind a statue to see the "great ass" on a female figure. (Of course, the 2 women went also...Americans!) When he was a subaltern (~2LT) they used to turn the statue around so her ass was facing the receiving area. Big prank of the day.
-Pointed out 4 small female figures on a beautiful chandelier: 2 laughing, 2 frowning. Why? According to him, something is "sticking in them." 2 like it; 2 don't!
-Arranged an impromptu hart concert by someone who was practicing in a draw room.
-On a plaque tucked away in a discreet place, all the club presidents were named. Juan Peron was the second previous President of the Circular Militar!


Other Buenos Aires notes:

-Internet access for $1.50/hour in the nearby fussganger (pedestrian street). And you get a great tiny cup of coffee with it!
-Airport expansion in the morning was also similar to one in Santiago, BUT the privatized authority has to run 33 airports throughout the county with a distance between the two fartherest the same as the distance between Moscow and Lisbon.
-The power plant we saw in the afternoon was of the same type we saw in Santiago. Very modern and efficient.
-Restaurants don't start serving until 9 p.m. Slight crowd by 10 p.m. Really crowded about Midnight.
-More blondes here and they look more natural. ~ 10% of population? Great legs though the ankles tend to be a bit skinny.
-Airlines are packed. AA & United would add 3 or 4 more flights per day if there was room. No special fares as a result.
-But, Denny...we would love to visit here...and no jet lag!!
-Young lovers everywhere, just like Paris. Hugging and kissing on park benches and in restaurants.
-Saw one couple who had to be Honeymooners. She was lounged all next to and over him and watching as he was twirling what had to be a shiny new wedding band.
-Denny! We have to come back here!


The city starts charging up again by 0630. By 0700, the traffic was nearly as thick as any time on the first day!


-


Argentine Malvinas War Memorial

>>>>>>>>>>>>>>>>>>>>>>>>>>>>>
Day 2: Argentina : 12 May 00
>>>>>>>>>>>>>>>>>>>>>>>>>>>>>

Last things first: Got back to the hotel, opened window, & heard a military band. Looked left and saw a row of military busses and cargo trucks.
Had to check it out. There was a ceremony in the Plaza San Martin across from our hotel (Circular Militar). Watched as some civilian (who had a Politician's haircut and smile) presented certificates to civilians and military and one young boy (about 12 years old) who was scared but composed.
-The Colonel made remarks which began, "Commandante, Presidente, General so&so, General someonelse, Seniors, & Senoritas."
-Didn't understand anything the Civilian said.
-At conclusion, full dress troops (about 100) marched off. Each carried a sabre, to include young soldiers. All had tall hats and white buster-brown belts. Officers had gold epalets with fringe and NCOs and enlisted had red ones.
-Prescision of the troops matched the Old Guard. Band was fantastic! Beautifully executed music and marching all the way to busses.
Was it the Presidente of Argentina?
-Little security = surely not.
-Asked 2 civilians: no English.
-Asked an officer who summoned another, more junior officer who spoke some English. He said it was a normal parade in honor of San Martin who had founded their regiment.
-Asked who the civilian was and he said, "No civilians were there."
-We both got confused.
-He tried to send me to the Chief of Staff, who he said spoke better English. I asked, "Chief of Staff of the Argentine Army?" He said, "Si."
-I declined! I thanked him and told him what an excellent job the troops did. He beemed.
Got back to the hotel. Met Hugh in the O'Club bar. He was also at the ceremony, but apparently came later than me. Didn't perceive any of the above.
-Hmmmmm?

Other stuff:
-ATMs don't work! Everyone complaining. First country in 3 years where I haven't been able to find one that works.
-Saw 2 official places today: Subway system expansion & new Convention Center being added to their fairgrounds. Of interest, but seen similar before. been there, done that.
-Embassy still a little screwed up. Outgoing Marine Major and incoming replacement escorts dropped the ball. Economics Advisor had to do things he didn't like...little support stuff...access to Commissary (mainly tourist trinkets), telephones to call out of country on (I and one other were the only ones who had been able to get calls out) ...Marine Detachment souvenirs...lunch in compound, etc. Oh, well.

-Beef has been tough or terrible so far. Saved my red meat quota for Argentina and no luck. Got 3 recommendations from Embassy or Argentines for restaurants for the evening. Going with the one from the person who earns the most money! Hope its good!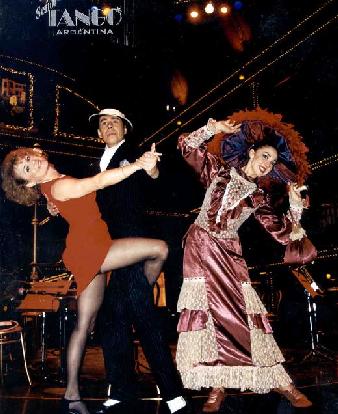 >>>>>>>>>>>>>>>>>>>>>>>>>>>>
Day 3: Argentina : 13 May 00
>>>>>>>>>>>>>>>>>>>>>>>>>>>>

3 or 4 went to the Tango show last night. Note the posed picture of Teresa. Others went different directions. I and 3 went in search of good beef.

Excellent Beef last night. Pleasant upper middle class neighborhood patrons who reminded me of our old Gasthaus Zer Linde in Danzenberg. Rode subway out, took taxi back. Crazy driver but we survived.

Prominently displayed article noted the President of the Country had been to that restaurant the previous week. My Civilian from the ceremony was pictured in it! One of the waiters who spoke English saw me admiring it and explained that my civilian was the Presidente of the Province, like a governor of a state. An older civilian in the picture was the Argentine Presidente.

Flight delayed this morning due to fog. Everyone is really tired. No ventilation (much less air conditioning) in the Ciruclar Militar so you had to open windows. But the traffic doesn't let up until 2 a.m. and then starts again about 6 a.m.

Doug (from the Embassy economics section) said the hardest adaptation North Americans must make is going home from work at 5 - 6 p.m., taking a nap, eating at 10, back to bed at 2 or 3 a.m. and the up in time to start work by 9 or 10 a.m.

I haven't even attempted to keep that schedule though there are 2 or 3 in the seminar who do (but probably without even a nap!). Don't see how they do it!

Side Note: No blacks ~ African racial influence ~ in Argentina either!

-1200: We finally got into the air. Supposed to have been wheels up at 0900. We were towed for nearly 30 minutes out of the private jet area (too big to let us move under our own power) and then taxied for another 10 minutes.
-Then 2 minutes after being airborne, Montevideo said their airport was fogged-in. We are circling, waiting for the cover to clear.
-So...a 20 minute flight is going to take (as of now) about and hour & a half!
-But great nap time on the ground. Everyone perks up initially at altitude, but then drift off again if we circle indefinitely.

Side notes:
-1/3 of Chilean population in the capital of Santiago (5 of 15 million)
-1/3 of Argentine population in the capital of Buenos Aires (12 of 35)
~1/3 Uruguayan population in the capital of Montevideo (1.3 of 3.1)

Boomer's bay (from which the boom operator refuels aircraft): occasional views thru the clouds at 11,000 feet.
-River is huge at this point. Mass of it is muddy brown, but tributaries feed in blue water and water is blue around the beaches.
-City looks well structured with several 4-lane highways.
(All right! Just got permission to land!)
-Countryside looks thoroughly cultivated with a variety of crops. Some plots appear to have been divided 3 or 4 times.
-Green & lush from the air but not jungle.
OK, missed landing! Hit decision point and couldn't see runway. First time I've felt that in years.

Not VFR, using instruments! Just found out that our pilot must be able to see the runway at the decision point, even under instruments, even though instruments have safely landed test aircraft.
-This aircraft's (KC 135) decision point is 250 feet of altitude. Most commercial airliners, with more sensitive equipment, are able to land, but their decision point is only 50 feet!

Circling again, waiting for clouds to clear.
Oh well, flying in a tanker. We still have 8 hours of fuel.
[How am I finding out all of this stuff while belted in? The 2 pilots (one AF test pilot, one Navy P-3 pilot) in the seminar are seated across the aisle from me. And the crew, to include resting pilot, are behind me.]

Can clearly see the ground a mile out but not closer to airport.

Another missed approach. Going around again!

Yes! We went in...we're on the ground!
20 minutes took 2 hours!

Pictures below are of us milling around waiting to lard and the typical bagga-handling-line used to load and unload luggage.