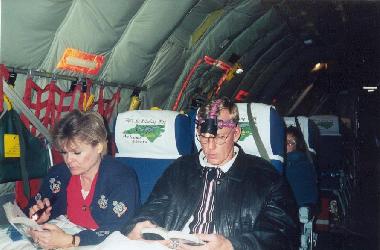 (If you have never been on a military cargo airplane, this gives you a feel for what it is like. Nice seats but no port holes and little light...so you bring your own!)
<<<<<<<<<<<

3 hours into an 11-hour flight. Well, at least there is plenty of room to move around AND I got the seats near one of the two portholes AND with a foot rest (aka oil storage foot locker).

I'm not excited as I have been in the past. I don't get it. I don't know if I'm losing my travel steam or if I just know how long and tiresome this flight is going to be.

I have tons a reading material on the countries we are about to visit but I've barely scanned it. Guess I'll just wait and experience them.

Well, I got started but I'm not sure how well I will maintain this journal for this trip.

~~~~~

OK - it's about an hour out from landing and I'm starting to feel some of that old excitement about visiting new and exotic places.

This KC 135 (Boeing 707 converted to an air refueling tanker) is far warmer than the ones I've been on during previous trips. Only needed the sweater this time. Never unrolled the blanket. Light is dim (as usual) but can't expect everything.

Everyone is still friendly and smiling. That's nice. Won't tell them how grumpy they'be in 11 days.

We are about 40 miles off the coast of Chile. Cloud cover. Sun set but still red in the sky. Can't see any land yet.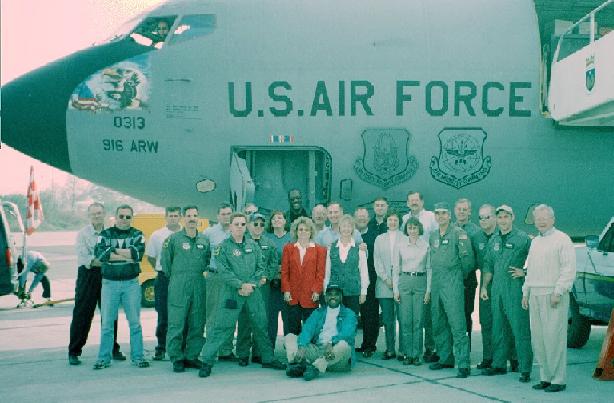 That's the best picture of the whole group we had during the trip. From left to right: Cal, Jay, Bob Keyser, TSgt Mark, Bob Ford, TSgt Barry, MSgt Tony, Sr.MSgt Brad, Vicki, Greg, Teresa, Tom, Gerry, Michael (seated), Karen, Gary(me), Chris, Cathy, Sharon, Bob King, Maj Mike, Rod, MSgt Ron, TSgt Mac, Hugh

>>>>>>>>>>>>>>>>>>>>>>>>>>>>>>>>>>>>>>>>
Chile: First Day impressions: 8 May 2000
>>>>>>>>>>>>>>>>>>>>>>>>>>>>>>>>>>>>>>>>

Twice as developed as Mexico City. Hard to quantify that, but...
-more modern downtown buildings
-fewer beggars/street pushers
-fewer klunker cars
-nearly as much smog
~Would like to see a scale of Developed Countries...from my experience, say...
100 - Sweden
90 - US
50 - Chile (but I need to see more)
25 - Mexico
1 - Somalia

Visited a natural-gas-conversion-to-electricity plant and airport, both on the outer edges of Santiago. Enroute, saw hovels and people living in abject poverty (but not nearly as many as Mexico City).

Most successful thing about the electric Plant was the success of privatization. Plant was completed in 1998; it was a major project laying a gas pipeline over the Andes and building a new, modern conversion plant using both gas turbines and a steam turbine using excess heat generated by the gas turbines. 56% efficient, which is the most achieved by best plants throughout the world. But the most impressive thing is that it was done without any government funding.

Privatized companies are able to do long-term planning and investing. US companies are reluctant to do the same; Americans are too dependent on gov't operation /building of infrastructure.

Big plans on Airport: Increase capability from 5 million passengers/year to 9 mil. "Build it and they will come" approach.

Embassy Brief: Ambassador talked/fielded questions for an hour. Had his DCM (Deputy Chief of Mission ~ second in charge) and principal staff present, but never deferred to them or called on them. DCM, while seated next to him, appeared bored/irritated. Two staff members justified their presence later: Just in case he couldn't field a question AND they only have to do it about once every three weeks.

DCM "hosted" evening reception at his house (we actually paid for it). Impressed the students with the huge, beautiful house. (US Gov't owns it and provides supplemental furniture, art, staff, etc.) I've seen it before...kept reminding folks, "Yes, very nice, but how would you like a party every other night in your house?" [Wife and kids stayed upstairs.]

Oh by the way, re: the Raddison: Beautiful 4-5 star hotel right downtown. City Bank ATM in the rear. FREE INTERNET access for guests...about time...I predict that within 10 years, it will be in every room just like the telephone is today.

Got my email but could not download my test files from the X:drive (free storage service). Probably a local machine block.

Students: Probably the best, most cohesive seminar I've seen. Real awareness of each other's strengths and weaknesses and no playing each other's weaknesses (yet).

No Headline News!! CNN International (in English) or CNN en Espanol only.

Convince/Discuss with Tom: Take Spanish IN COLLEGE.
-more Hispanic US citizens
-missing business opportunities in Latin America - US business overconfident, complacent.
-future US mil involvement in...Columbia?

Pisco Sour = National Drink. Lemon juice, sugar, liquor (local distilled grape, but clear as water!) shaken over ice. OK, but not really to my tastes. Of 4 tried over 3 days, none tasted the same.

Will see some countryside on Tuesday as we visit port on coast.

-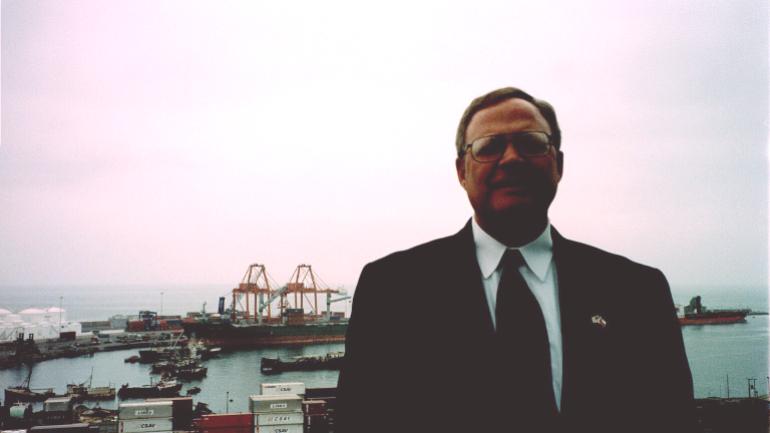 >>>>>>>>>>>>>>>>>>>>>>>>
Day 2: Chile : 9 May 00
>>>>>>>>>>>>>>>>>>>>>>>>

Went from Santiago via bus to San Antonio on the coast ~ 100 km.

Terrain looks like Southern California...semi-arid, scrub brush. Flat lands...all under cultivation. Not sure of the crops. Artichokes, someone said? Definite vineyards surrounded by thick thorn bushes.

Mangiest dogs I've ever seen. All have tucked tails, even the German shepherds. Only saw one healthy dog. Well, I guess they don't eat them at least.

Lot more shanties and far fewer middle class dwellings outside Santiago and suburbs.

Women are beautiful! Great legs and they have hips! Vast majority have dark hair and the few blondes appear darker, perhaps not real?

Have seen no one with any African features. Darker skin seems to come from Indian blood. More Indian seems to equal more discrimination.

Asked Mike & Greg (both black) if they sensed being stared at (like blacks in Moscow). Nope, not at all.

Group in a slight tizzy over 5 folks going off separately tonight to visit Werther's (Chilean International Fellow from seminar 10) friend. "Think they are special." ~ It'll blow over.

I have to lead remainder of group to dinner and "traditional" Chilean folk show. Some want to go off separately. OK!

They eat late here! 9 p.m. or later!


The show was nice. Typical of "local tradition" floor shows. Seating for 1,000 but only about 50 there. (Almost winter = low tourist season.) All 50 were at front tables. Greg, Hugh, and Teresa were selected to dance during the audience participation portion. Sharon, the introvert, saw them coming and hid in the bathroom until it was over. Our host, Gary Emory (COL, SF) and his wife were a lot of fun. Bob King, once again, made an outstanding, yet inexpensive, wine choice. Blah, blah, blah.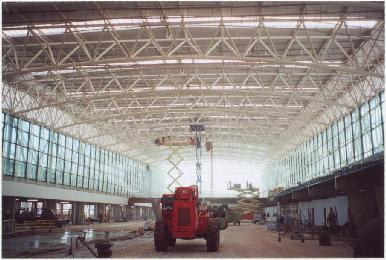 >>>>>>>>>>>>>>>>>>>>>>>>>
Day 3: Chile : 10 May 00
>>>>>>>>>>>>>>>>>>>>>>>>>

Windshield tour of Santiago.
-5 million people (of 15 mil in Chile) live in Santiago.
-Predominant French architecture. Why? Rich people sent sons to study in Paris.
-Main river thru city is heavily polluted. Runs thru a copper mine which uses the water to wash out by-products.
-But the city is beautiful. Tons of parks. Inner city kept clean.
-13,000 public busses; all driven by banshees.
-Why so fast? Drivers get 10% of fare so they race each other to pick-up passengers!!

Out to Airport where we're just waiting for clearance to take off.

Got to see the Andes from the Boomer's couch area (Left pad). Most impressive mountains!!

Expected land to get wet and lush as we crossed the mountains, but it appears to be still dry and scrub brush.

Later: All flat land under cultivation. Looks like section line squares just like Oklahoma.