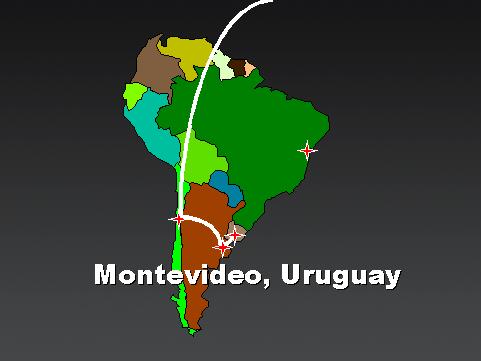 >>>>>>>>>>>>>>>>>>>>>>>>>>>
Day 1: Uruguay : 13 May 00
>>>>>>>>>>>>>>>>>>>>>>>>>>>

(Really just the afternoon and drive in from airport, 3 streets around hotel, and big shopping mall nearby. Our aircraft was met with a bus, stairs, and a luggage conveyer belt = we didn't have to unload luggage ourselves! Bus took us to a military VIP lounge. Best customs clearance I've seen in 4 years of doing these travels. Bags were taken straight to hotel.)

Impressions:
-RICH! (but haven't seen that much)
-Mall is about 1.2 the size of Tyson's Corner but no big anchor stores.
-Clientele looks just like Tyson's Corner except for those over age 50, who look more like rich Europeans.
-Rich women, 40's and younger don't have hips! Too much super model influence, just like in US. Some great legs, though!
-They love their kids. Small family units, only 1 or 2 kids. (verified in Embassy guide.) Also spoil them, like the little brat sitting behind me at the sidewalk cafe who kept bouncing his chair back against mine.
-No Indian racial influence...apparently "eliminated" them by 1900. No African influence either.
-Only 3.1 million people. 1.3 in Montevideo.
-My ranking on Developed Country list: 88 (to be reviewed at end of visit)

I found a sidewalk cafe inside the mall. (Reminded me of my one in Hong Kong.) It was near stairs near the main entrance = lots of traffic.

Saw half the seminar stroll by from a distance. Only one got close enough for me to speak. Tom asked if the other seat was free and I said, "Well...I'm really enjoying watching and not talking" and he graciously seemed to accept that!

Had a late lunch, early dinner ~ 5 p.m. Good pizza.
Election Day on Sunday, the next day. People all over the outside entrance to the Mall were handing out flyers. Took one from each. They look like very long lists of candidates for general categories of positions. One party figure is pictured at the top with 100 or more names by category below. Blatant slates...verified later by our guide.

Went home to the hotel. Free internet! Very nice, helpful staffer, but it was located right off the kitchen and enroute to the service elevator.
-"Someone" really needs to standardize Spanish keyboards. Alphabet and numbers are in the same place as English keyboards, but special character (such as: . , ; \ /) are in different places on every computer!
-Advised home station that USG Visa card wouldn't work at Circular Militar nor for cash advances in Buenos Aires or Montevideo. Had to get cash using First Union, after I talked to Denny (so she won't know and, hopefully, she won't kill me. Should have used PFCU, I remembered later!)

Showered and went to bar for pre-dinner gatherings about 8:30 - 9 p.m. Simply too tired (didn't want to) to do the dinner scene and socialize. Students are doing fine so I can strike out on my own in this safe of a place.

Asleep by 10 p.m. (Up at 0520, but best sleep yet!)




-


>>>>>>>>>>>>>>>>>>>>>>>>>>>
Day 2: Uruguay : 14 May 00
>>>>>>>>>>>>>>>>>>>>>>>>>>>

Hugh and I just did church. Expected what we had seen in Mexico City. Lots of poor people and staid ceremony.
Wrong!

Nun and Priest focus on the kids. There were 2 dozen children up and around the altar. They participated continually in every aspect of the Mass. None them wore altar robes; all of them were obviously very comfortable on the altar. They led the singing and the congregation sang with them! One of the boys cleaned the cup after communion in a very informal, casual fashion. Priest poured the water, the boy tossed it back like a water glass and then wiped it out as if the sacramental cloth were just a dish towel (which it is)!

Most spiritual experience I've had in a long time.
Only the old folks and Hugh and I knelt. Others stood or sat the whole time.

Hugh and I had a cappuccino at my sidewalk cafe in the Mall after Mass and we both effused over the service. He is an old line Boston Catholic, but is disgruntled over the old-line traditional clergy in Northern Virginia.

Think I'll nap until our 2 p.m. city tour.

Nice city tour. Very personable tour guide who teaches English (as a second language) and is studying to be a translator. Key points:
-Sources of wealth:
-Agriculture, ranching (beef), banking (Switzerland of So. America), Port, tourism (Argentines and Brazilians).
-But still think of themselves as a developing country.
-Kids go to school 4 hours/day but only get the basics. If parents want musics, other languages, etc. they must go to private schools in the afternoon.
-95% literacy.
-Montevideo =
Monte = hill
VI = 6th
d(e) = from
E = east
O = (to) west

i.e. Used by mariners to indicate 6th hill from east to west ~ from the Atlantic. Name stuck.

-Only saw upper, upper-middle, & middle-class neighborhoods. Bad neighborhoods are on the outskirts.
-Minor river through town is polluted. Saw trash dumping in several places.
-Untreated sewage goes into the big river / estuary...whatever you call it. It is 140 km across the mouth to Argentina, but gets Atlantic salt water depending on currents.
-Soccer stadium is a national monument. First World Cup played there and Uruguay won.
-Architecture is a blend of Spanish and Italian and general European plus Modern.

I'm tired. Feel anti-social again tonight. Feel obliged to experience some of the culture but hard to do by yourself.

You can tell Winter is coming. They have higher humidity here and it feels cold today and probably colder tonight. Cloudy, sandy, rainy.

OK. I tried to take a siesta about 5:30 p.m. That's what you are supposed to do so you can do dinner at 9 or 10 p.m. and do a bar afterwards.

And I kept trying to go to sleep and trying and trying.

And all of a sudden I woke up as the bon-bon girl came around passing out chocolates. I guess I was dreaming I was trying to go to sleep!

That was 6:56 p.m. I decided I didn't really care that much about food and that I certainly wasn't in a mood for company, much less a group, so I just went back to my Shopping Mall sidewalk cafe about 7:15 p.m. Great place to watch people. Lots of them passing by from all walks of life.

Ordered "Milenas Loma deRellonos con Fritas" It was like a combined thick wiener schnitzel and Cordon Bleu with striations of a light cabbage mixture throughout. Delicious!

Couldn't get wine until 8 p.m. because it was Election Day and they couldn't serve until the polls were closed.

The waiter also couldn't understand that I wanted both wine and a cappuccino at the end of the meal. Had to bring over a waiter who spoke English to make sure I wanted both!

Anyway, great people watching and back to the room by 9 p.m.

Oh...none of those skinny Argentine ankles here! Great legs! Properly proportioned all the way!

They dote over their children. Saw no families with more than 2 kids. Average is 1.3, which is below replacement rate [Embassy handout].

Caught another people-watcher watching me! People-watchers love to watch other people-watchers but hate to be caught at it. He shifted his eyes, squirmed, glanced all around. It was great for me though! I could then watch him watching people and he dared not glance back at me.

I had an epiphany of sorts when watching a couple with a small child. She was carrying the child on her hip and at the same time giving her husband (I assume) flirtatious glances and he was responding in kind.

(This isn't the heavy Latin culture we are familiar with from Mexican and Caribbean exposure. Far more European/American. i.e. less flirting.)

Back to my key point: I need to flirt more with my wife. It's a spice that adds something indefinable to a marriage.

I wish she were here so I could practice on her now. I also wish I could practice other things!

[If you read this Denny: I love you and I won't be any more explicit. God, I hope we are in sync this Saturday before you go off for a week.]

Need paper. Oooh...good USAF Reserve tablet.

This place is ripe for American tourists. Can't believe it hasn't been discovered before! Switzerland with beaches.

Which is what the "Wash. Post" article said about Montevideo.

Wish I knew how to make money off of it!

-Rating after today's tour: 78
-What would be the criteria if you were to actually rank countries by developed..ness?
-I'm sure you could do it simply off the State Dep't background notes: Literacy, GDP, % per capita income, etc. Too staid.
-I think I'll just stick to my gut reactions.
-Which, of course means I would have to visit every country in the World! Dream on!
Of course, if I could publish it, and gain credibility, they would probably pay my way there! Keep dreaming! [But they would probably pay for Denny also, unlike the USG!]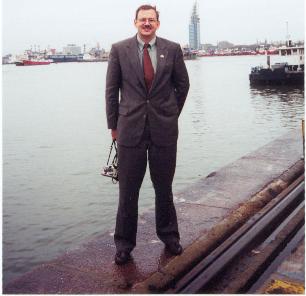 Port (with Bob King)

>>>>>>>>>>>>>>>>>>>>>>>>
Day 3: Uruguay : 15 May 00
>>>>>>>>>>>>>>>>>>>>>>>>

Embassy brief:
-Social indicators: Homeownership, access to clean water, etc. are nearly the same as US; exception for per cent below the poverty line: they are half (6%) of US (11%)!! Income is 30% greater than rest of Latin America.
-Switzerland of So. Amer.? Per Econ Officer, "Used to be in the 40s & 50s, but not now." Aren't attracting the investment needed/don't know how to market themselves.

Visit to port facility:
-Gov't run...appears inefficient and not nearly as busy as San Antonio, Chile. (270k TEUs vs. 45k TEUs)
-Nearly a dozen sunken cargo ships in the harbor. No one cleans them up.
-Saw a container ship being docked. Had Jay, Navy, explaining the details.
-Bob Keyser noted the differences between Philly (gov't Port Authority) vs. Camden Yards (private concessionaire) are similar to Montevideo and San Antonio.

Lunch with the famous chivita sandwiches. I had the pollo (chicken) version, which sure tasted just like a good chicken sandwich to me.

Wheels up at 1600. No excitement/delays enroute.

Picture: Profusely thanking our host in Uruguay.